Une version un peu courte cette semaine. On y reviendra en cours de semaine…
Expériences / installations
Dezeen présente un horloge créé par Breaded Escalope qui n'affiche l'heure que lors de l'intervention des doigts de l'utilisateur. Je ne sais pas si c'est pratique, mais ça donne à relfléchir…
Synthés, Musique et Documentaires
Cette semaine je suis tombé sur plusieurs documentaires sur la musique. I Dream of Wires raconte l'histoire de l'invention et l'utilisation des synthétiseurs. J'ai trouvé ce film par le biais d'un article chez BoingBoing How do synthesizers work ? [Comment fonctionne les synthétiseurs] qui pointait sur 20Hz, un blog sur la musique électronique chez Gizmodo et l'article A beginner's guide to the synth.
Vu chez Kottke, le studio graphique britannique Dorothy – à ne pas confondre avec une autre Dorothy qui fait le web comic Cat and Girl – a produit [et vend] une affiche/cartographie fabuleuse des interconnexions de la musique électronique. De plus, le schéma sur lequel ils installent ces connexions est le dessin schématique des circuiuts électroniques d'un Theremin.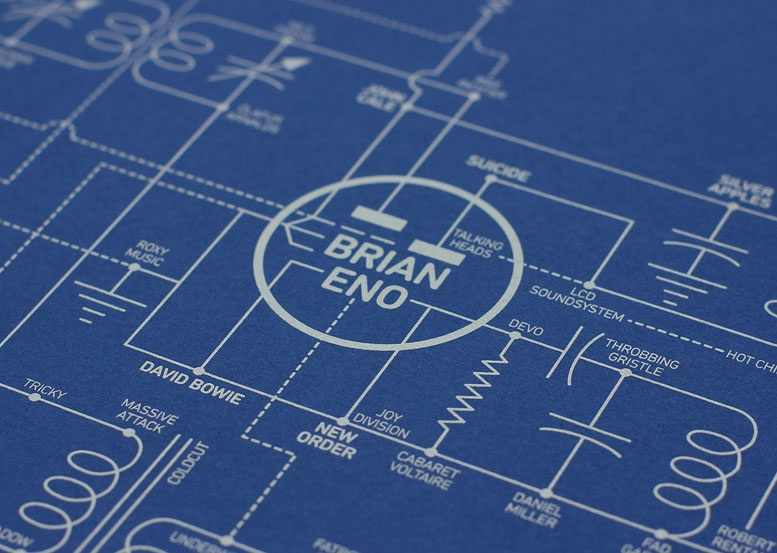 Electric Love, detail / Image : WeAreDorothy, DR
Via Khoi Vinh à Subtraction.com, un autre documentaire sur la musique 808: The Movie est dédié à la boîte à rythmes qui a fait sonner les années 80 jusqu'à nos jours avec l'EDM…
Pour finir, il y a un moment Khoi a aussi posté un article sur le documentaire Design Disruptors: How Design Became the New Language of Business. Il a des doutes sur le ton du trailer, mais – en fin de compte – fait confiance aux réalisateurs, InVision.
Documentation

O'Reilly on Design / Image : DR
Saviez-vous que O'Reilly, l'éditeur de livres techniques bien connu – ceux avec des gravures d'animaux sur les couvertures -, a une section de leur site avec des articles et des publications, des conférences même, à propos du design ? Moi non plus.